100% AMERICAN made
Battle Cross Bronze Statue


Fallen Soldier Memorial 1/2 Life Size 21"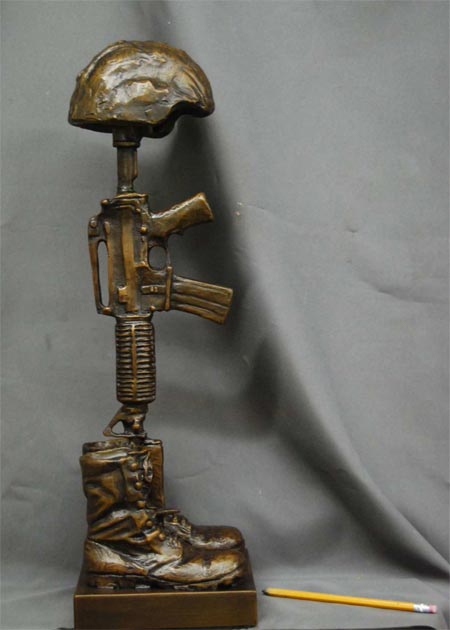 Our Modern Day half life size Battle Cross is 100% US made on US soil. Custom configurations available for this smaller version as well. This size statue is ideal for indoors or outside. This size statue makes a wonderful gift to the families of Soldiers that have paid the ultimate sacrifice for our freedom in the United States.
Small 1/2 Life Size Battle Cross For Home or Office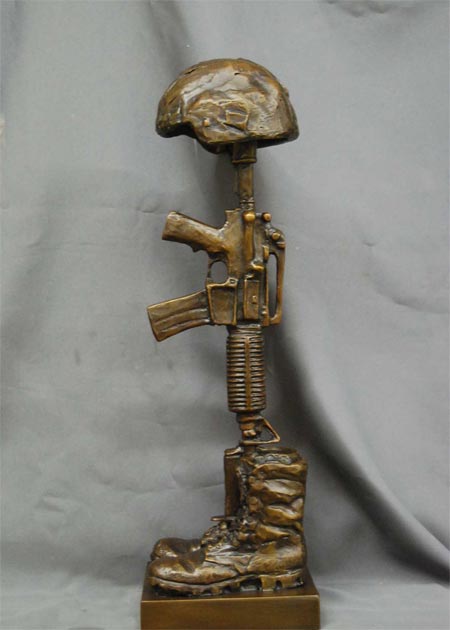 Modern Day Small Bronze Battle Cross Statue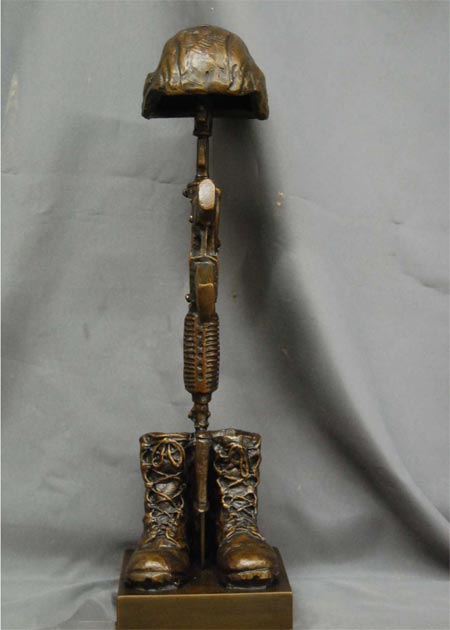 Bronze Fallen Soldiers Cross
Custom Battle Cross Engraving Available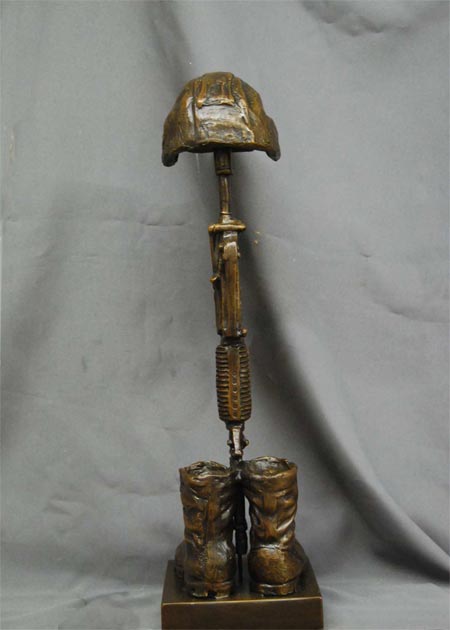 Rear View Of Bronze Fallen Soldiers Cross
"NEW"
Battle Cross statue for surviving family members
New Size available 21" bronze
Base dimension 6" wide X 6-1/2" deep
Honoring Fallen Soldier with personalized information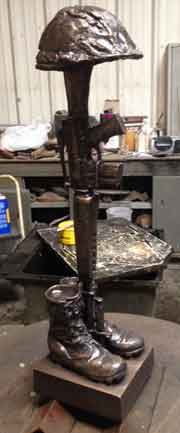 1/2 Life size Vietnam Battle Cross
By Icon Bronze

Photo Courtesy 11th Aviation Command
Fort Knox and Kevin Costner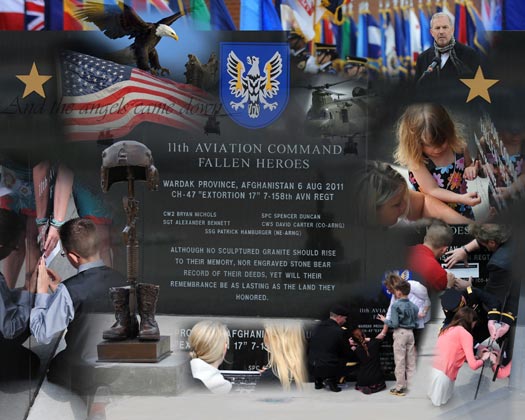 Life size Battle Cross statue
Approximately 42 inches tall with base and 39 inches without
Base Dimension 12" wide X 15" deep
Our Statues Are 100% made in AMERICA not made in Mexico or China
like others out there.

HONOR OUR TROOPS WITH AN
AMERICAN MADE
STATUE


There is no comparison in the quality, ours is far superior in every way and we can claim that it is American Made.

You may find a cheaper version elsewhere
and that is exactly what you will get
if you buy from them.
Fallen Soldier Monument

Battle Cross
2 X Life-Size

(marble base, not included)
Photo courtesy of Little Rock Air Force Base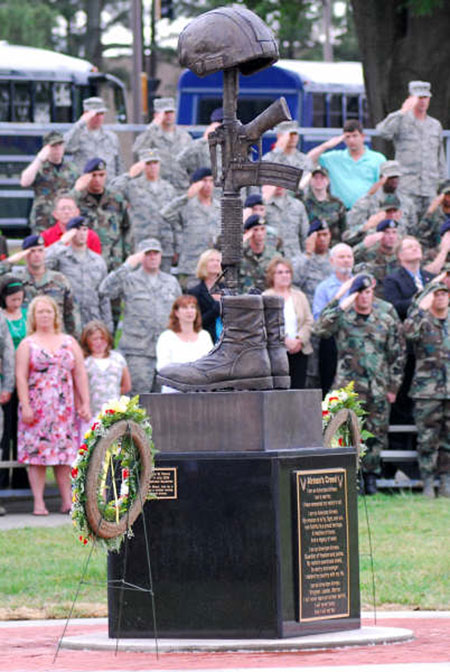 Please click picture for more pictures of Battle Cross Memorial
Proudly Supporting and Honoring Our Troops
By Icon Bronze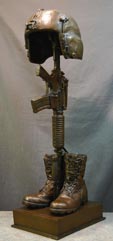 Flight Helmet Battle Cross
For Fort Knox
You may find a cheaper version elsewhere
but you will get exactly what you pay for.
Buyer Beware
Proudly Supporting and Honoring Our Troops
Military Bronze Statues
We would like to thank you in advance for considering Icon Bronze, LLC for your Bronze Military Statue needs. Our Battle Cross Statues are a cut above the norm when it comes to the finest quality and meticulous attention to the most minute details. We never sacrifice the quality and outcome of your Fallen Soldier Statue for any reason. Those that have served and given us their ultimate sacrifice with their lives deserve nothing but the best. We are honored to help in creating Armed Forces bronze statues that pay tribute to the men and women in the armed services of America. We are pleased to be part of the Memorial honoring the WWII African-American Marines that were given little to defend themselves but gave so much in the fight for freedom. Our Marine statue shown above shows the determination of these brave US Soldiers during WWII. When you combine our Bronze Battle Cross statues with our Military Soldier statues you have the complete Memorial package. Please take a moment and click the Contact Us so that we can provide you with a on your Bronze Monument Statue needs. If you are looking for more than one Military statue from different branches, we have special discounts for multiple bronze monument orders. We also have a flat fee delivery and installation of your bronze statue monument. Call us today for a fast free quote on your custom bronze military memorial needs. Call 801-649-5823 or 877-404-4266 We will be happy to take your calls 24/7 day and night.
All American Made Bronze Statues
Icon Bronze and that are shown on this website are sculpted and cast in the USA of the finest quality bronze available.

All bronze castings at Icon are cast of Everdur silicon bronze. The composition of Everdur bronze is 95% copper and 4% silicon and 1% manganese. This type of bronze produces a much higher quality, more durable and longer lasting statue or monument than cheap imported bronze. Imported bronze will have a little as 50% to 55% copper content. Because of the high quality bronze used in the creation of statues and monuments at Icon, you can rest assured that they will last for many generations. Our custom sculpted statues stand out above the rest because it is hand sculpted, molded and cast.

We can create and design a custom made bronze sculptures and bronze statues for you from your ideas or feel free to use ours. We are happy to help in any way making your dreams become a reality. The sky is literally the limit when it cones to custom bronze monuments and statues. We create custom made statues from desktop to colossal bronze monuments. Options are wide open and the possibilities are endless for your statue needs. We can custom create for you portrait statues and bust statues, we make bronze plaques,

fountains, memorial statues and more.
We Can Make Bronze Plaques For You
Icon Bronze, LLC creates custom hand sculpted bronze plaques, signs and other architectural elements in bronze. Add class and elegance to your office building, Church, hotel or other public building with custom bronze elements giving it a unique one of a kind atmosphere. Remember that with Icon Bronze, LLC your custom bronze sculpture will be sculpted to your exact specifications.


Icon Bronze's sculptors are well known for the American themed and Patriotic bronze sculptures which he creates. Our custom bronze statues are sculpted in the style of classical realism and cast in bronze using the time honored lost wax bronze casting method. The sculptor's bronze statues can be seen in many wonderful locations across the United States, as well as abroad. Buy your bronze sculptures direct from the Icon Bronze where we accept commissions for your custom bronze statues. See our portfolio for more custom Patriotic bronze sculptures, custom Patriotic bronze statues, war memorials and custom bronze monuments. Contact Bob Talbot at Icon Bronze for your consultation about your custom bronze sculpture project 801-649-5823 or Toll Free 877-404-4266, Email welcome at bob@IconBronze.com or click here to Contact Us.