100% AMERICAN MADE


Fallen Soldier Monument


2 X Life-Size




Bronze approx. 7'-7" (marble base, not included)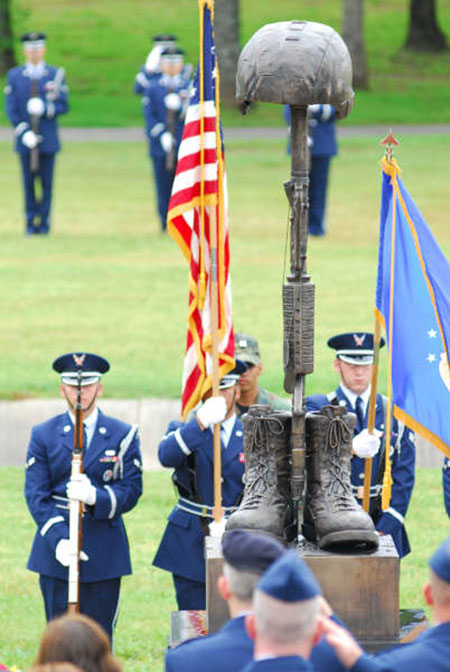 Our Modern two times life size modern day Battle Cross was commissioned by AFSPA Hercules Chapter in Jacksonville, AR. The statue was dedicated at the Little Rock Air Force Base on May 14th 2008. The statue stands over 7-1/2 feet tall. Since it's dedication we have placed several heroic Battle Cross statues around the country. Call today for your special pricing 801-649-5823

Photos courtesy of Little Rock Air Force Base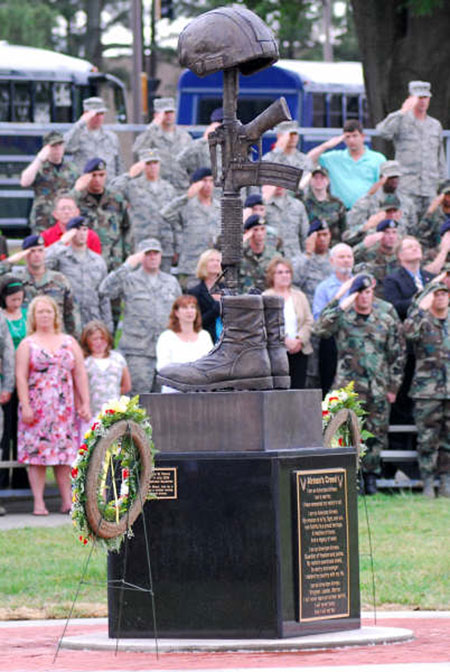 Heroic Bronze Battle Cross For Fallen Soldier Memorials
Proudly Supporting and Honoring Our Troops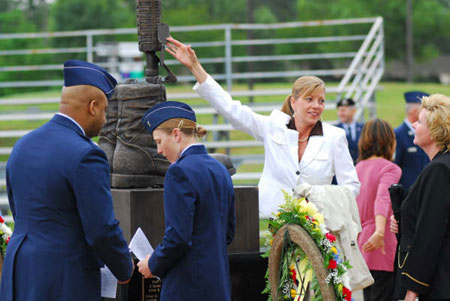 Custom Bronze Fallen Soldiers Battle Cross Monument
2 Times Life Size Memorial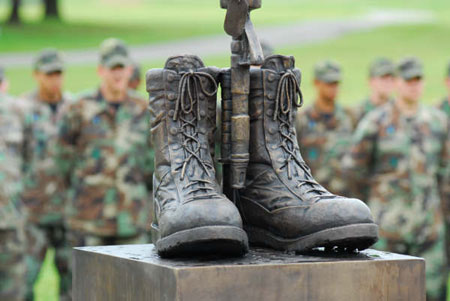 Bronze Battle Cross Memorial at Little Rock Air Force Base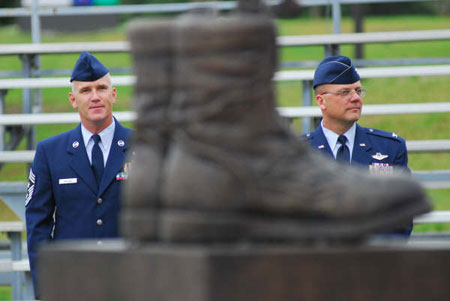 Unveiling Of The Heroic Air Force Battle Cross
Please Contact For Pricing

By Icon Bronze
Bob,

I just wanted to thank you both for a very pleasant working relationship over the past few months. We couldn't be happier with the ease of communication throughout our commission along with how thrilled we were to see the finished product. We absolutely love the statue, it is truly perfect in every way. On behalf of the men and women of Little Rock Air Force Base, I thank you. It was a pleasure doing business with you both.

Sincerely,
Angie Ford
Pictures attached of our memorial.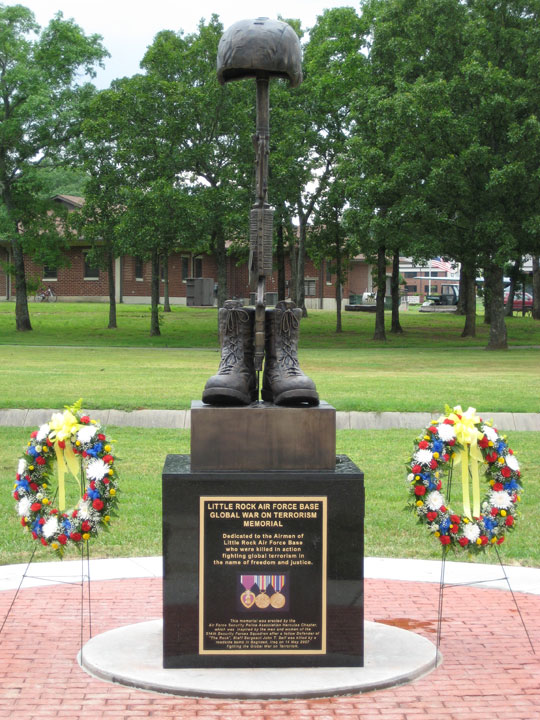 Bronze Fallen Soldier Memorial Statue
Sculptor Icon Bronze
These pictures will put in to perspective how large
the gun and boots are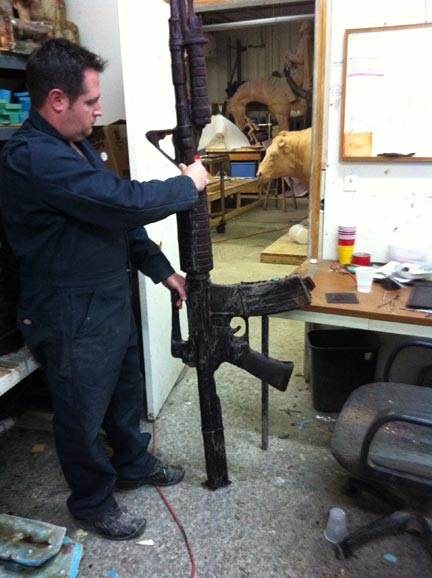 Boots For The Fallen Soldier Battle Cross
Huge!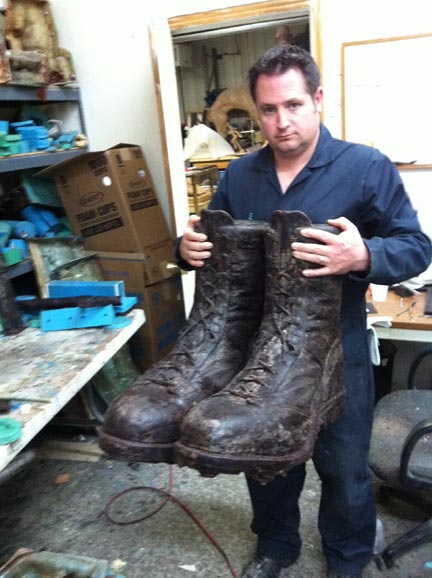 Battle Cross bronze statue
Fallen Soldier Memorial Life Size
Pictures and Links Below

Photo Courtesy 11th Aviation Command
Fort Knox and Kevin Costner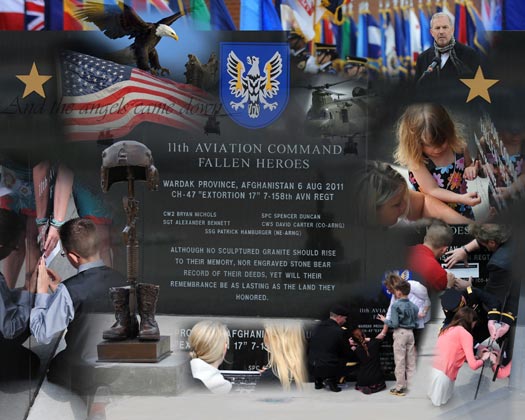 Unveiled By Actor Kevin Costner
"New" 1-1/2 Times Life Size US Modern Day Battle Cross 7'-6" Tall
Please Click Picture For Details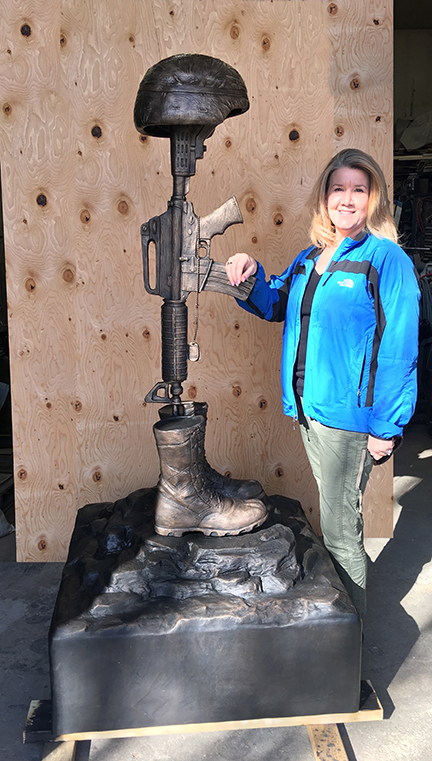 This picture is of the Life Size
Bronze Battle Cross memorial Statue
Patina Color Is Up To You, This Goldish
Color Was Special Order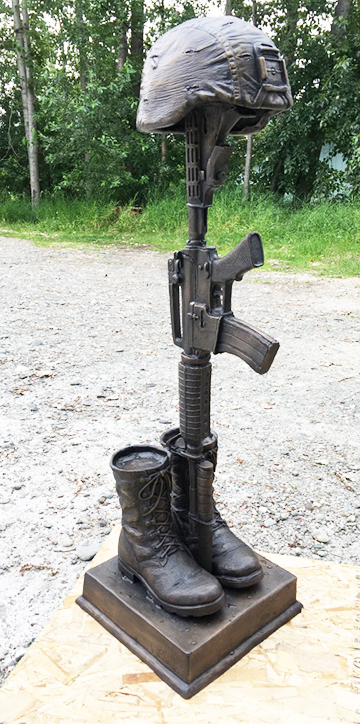 Life size Battle Cross statue
Approximately 42 inches tall with base and 39 inches without
Please Call For Pricing

Base Dimension 12" wide X 15" deep
Our Statues Are 100% made in AMERICA not made in Mexico or China
like others out there.

HONOR OUR TROOPS WITH AN
AMERICAN MADE
STATUE
There is no comparison in the quality, ours is far superior in every way and we can claim that it is American Made.

You may find a cheaper version elsewhere
and that is exactly what you will get
if you buy from them.
Custom Military Bronze Statues
We would like to thank you in advance for considering Icon Bronze, LLC for your Bronze Military Statue needs. Our Battle Cross Statues are a cut above the norm when it comes to the finest quality and meticulous attention to the most minute details. We never sacrifice the quality and outcome of your Fallen Soldier Statue for any reason. Those that have served and given us their ultimate sacrifice with their lives deserve nothing but the best. We are honored to help in creating Armed Forces bronze statues that pay tribute to the men and women in the armed services of America. We are pleased to be part of the Memorial honoring the WWII African-American Marines that were given little to defend themselves but gave so much in the fight for freedom. Our Marine statue shown above shows the determination of these brave US Soldiers during WWII. When you combine our Bronze Battle Cross statues with our Military Soldier statues you have the complete Memorial package. Please take a moment and click the Contact Us so that we can provide you with a on your Bronze Monument Statue needs. If you are looking for more than one Military statue from different branches, we have special discounts for multiple bronze monument orders. We also have a flat fee delivery and installation of your bronze statue monument. Call us today for a fast free quote on your custom bronze military memorial needs. Call 801-649-5823 or 877-404-4266 We will be happy to take your calls 24/7 day and night.