FVSU Fort Valley State University
Wildcat Mascot Monument
Photos of Clay 10 foot WILDCAT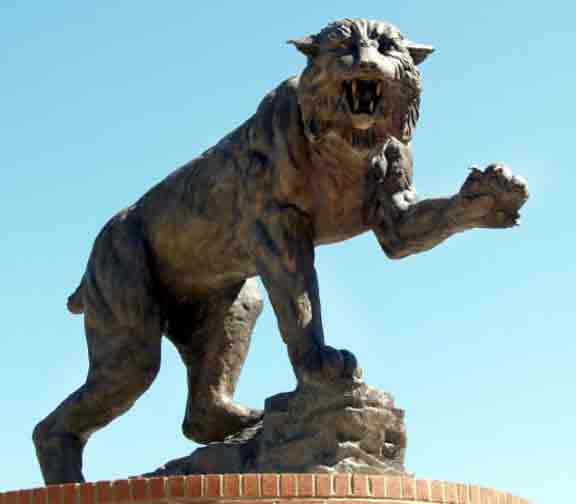 Custom bronze wildcat statue commissioned by Fort Valley State University in Fort Valley Georgia. Standing about ten feet tall, this monument is sure to grab attention of all passers by. If your school, business or sports club needs a mascot we would love to help. Please contact Bob at 801-649-5823 for a fast precise quote. Send us your requirements and specifications via email to: Bob@IconBronze.com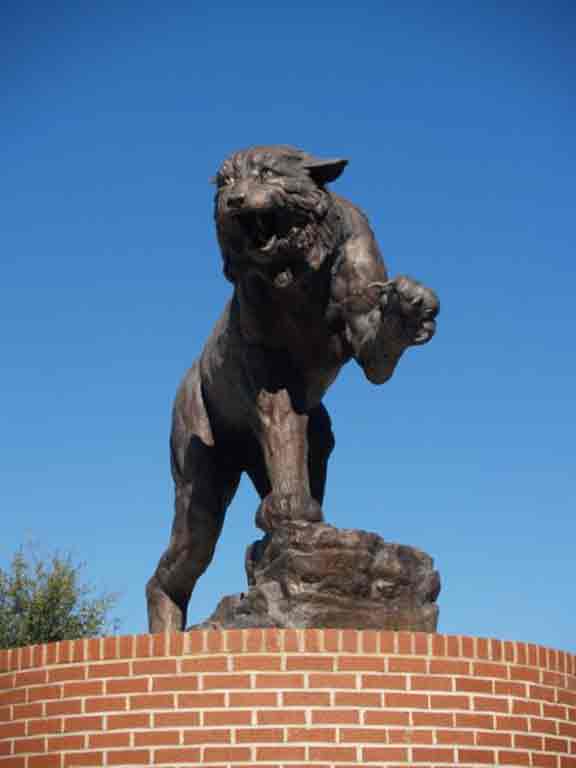 Colossal Bronze Wildcat Monument At FVSU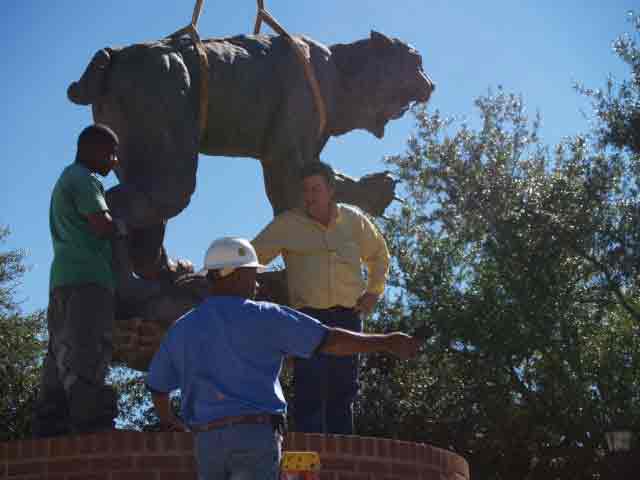 Workers Installing The New Bronze Wildcat Statue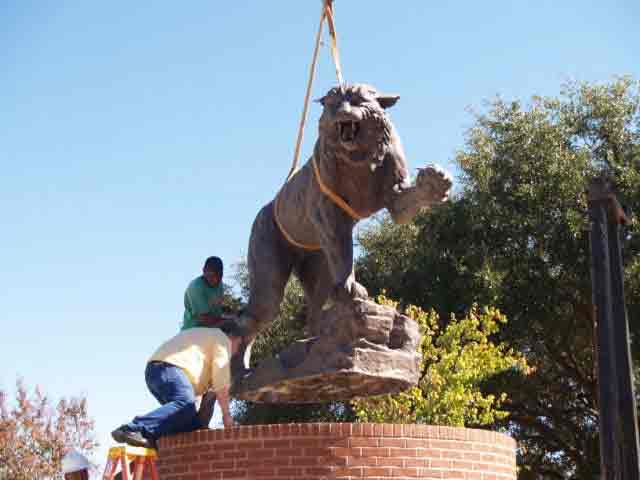 Lining Up The Bronze Monument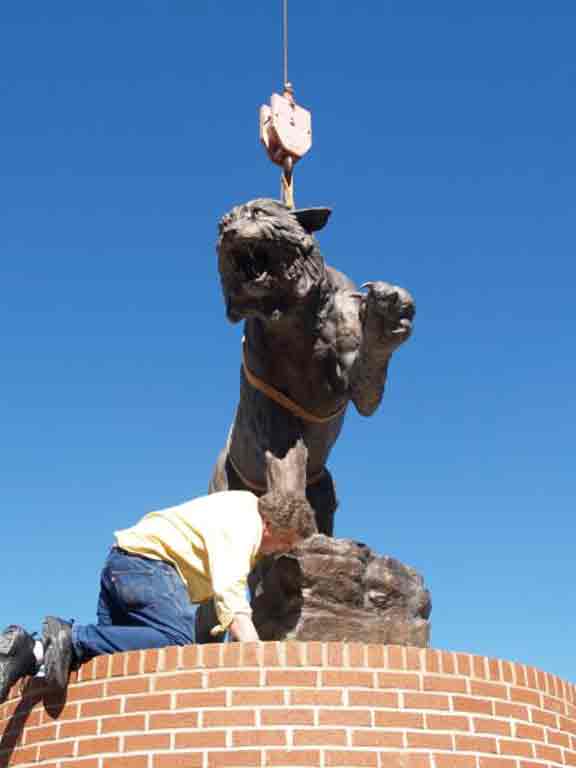 Installing the Bronze Wildcat Statue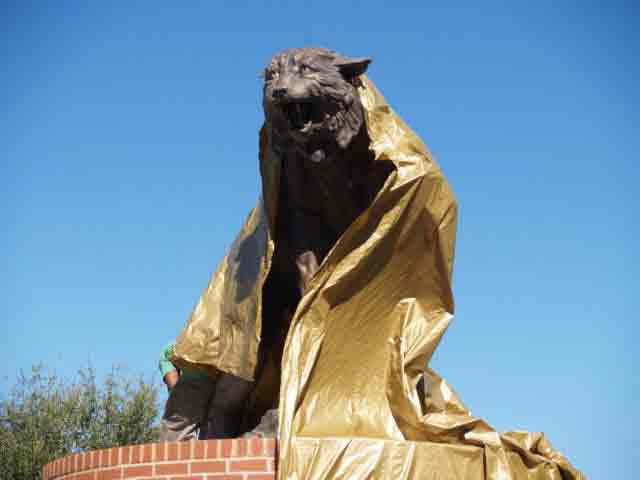 The Unveiling of the Wildcat Statue At Fort Valley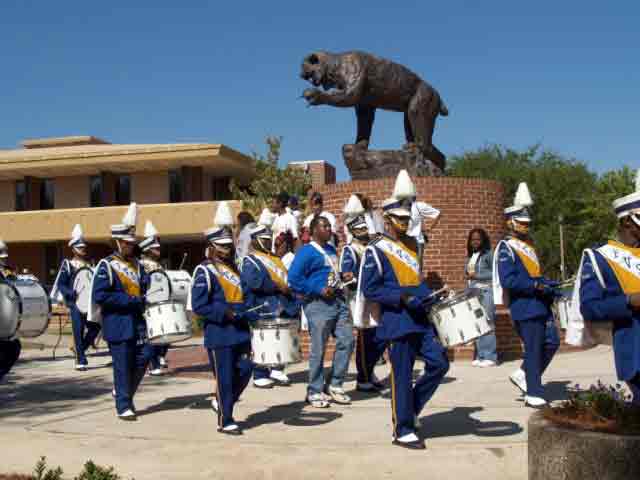 FVSU Marching Band In Front Of The Bronze Wildcat Statue
By Icon Bronze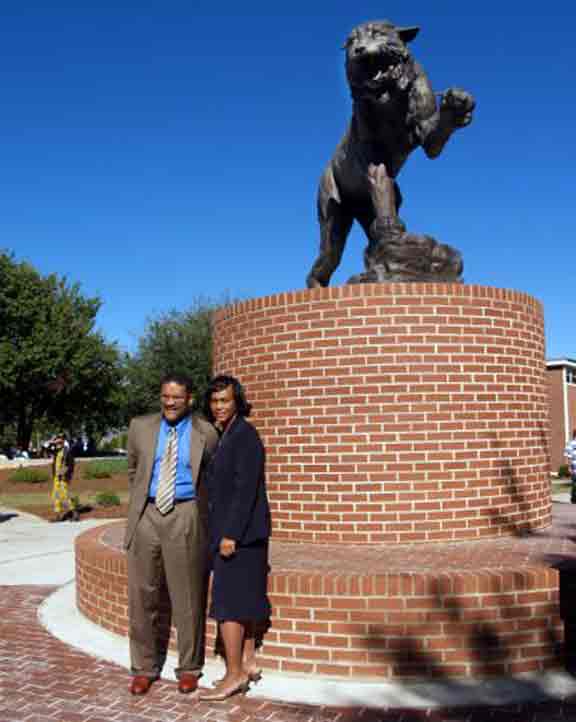 Dr. and Mrs. Rivers
F.V.S.U. President Dr. Rivers

Photographs By: Cindy Gambill
Fort Valley State University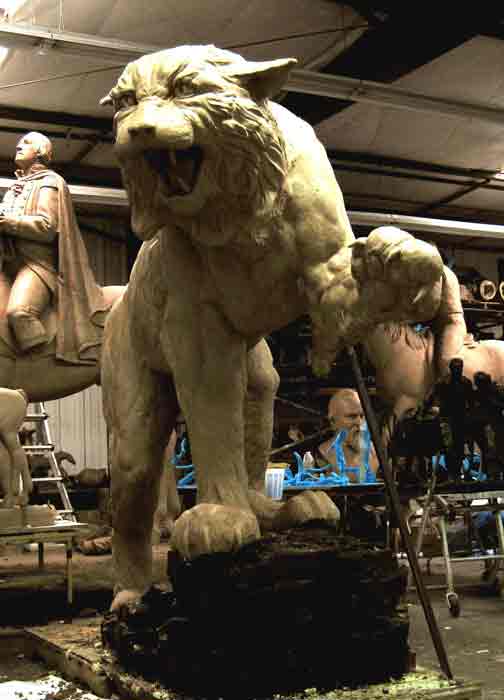 Clay Model of the Wildcat Statue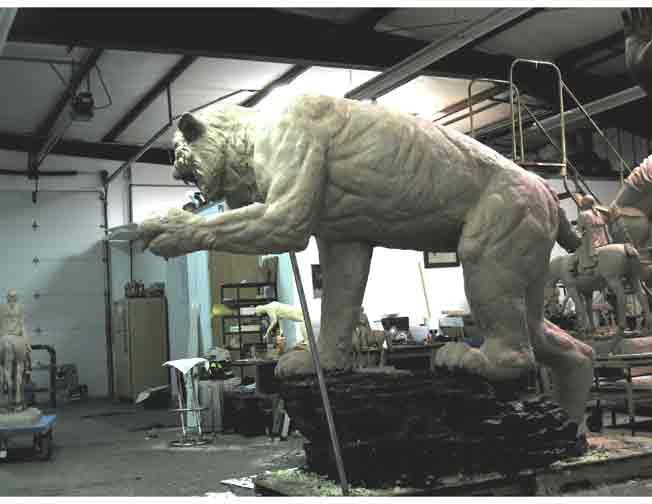 Working On Clay Wildcat Model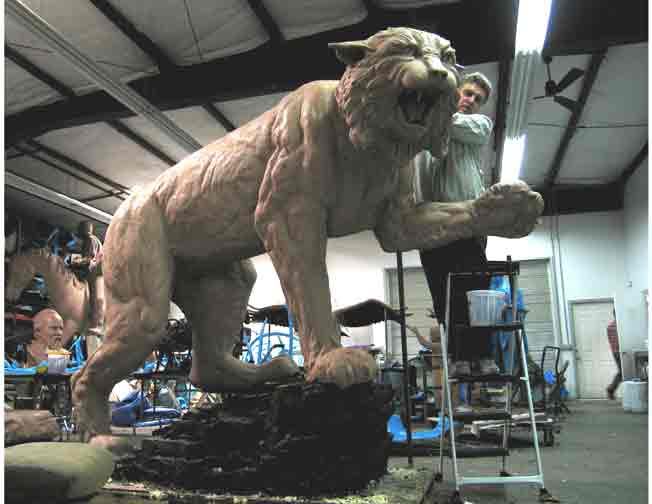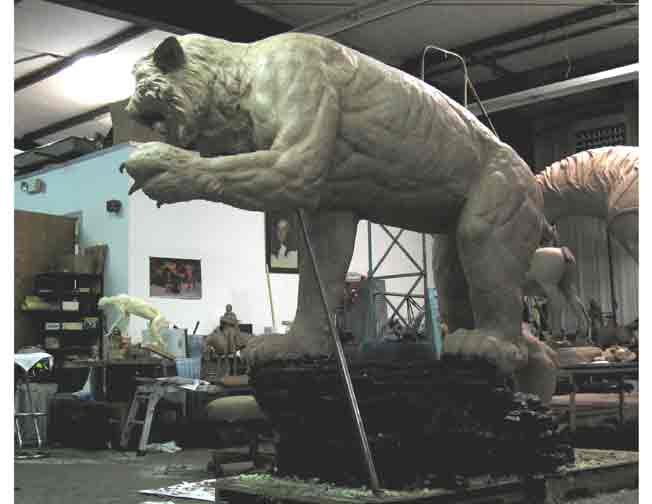 Clay Models Bronze Statue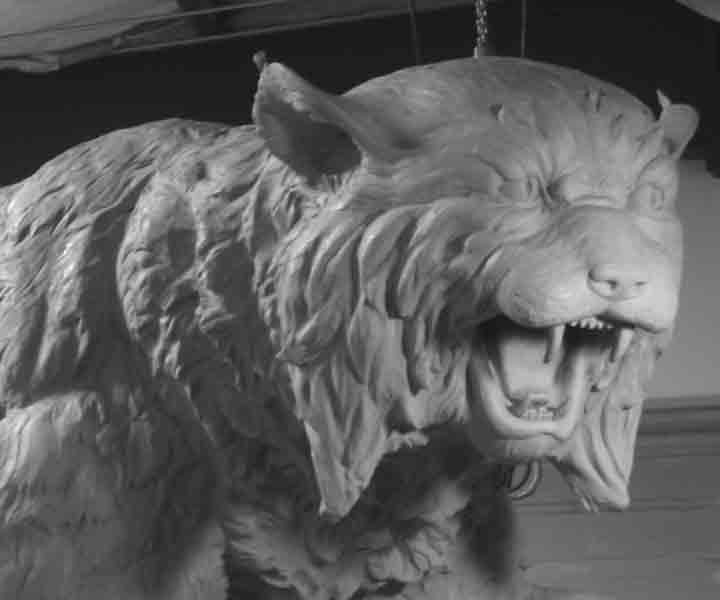 Clay Model Close Up Of Wildcat Face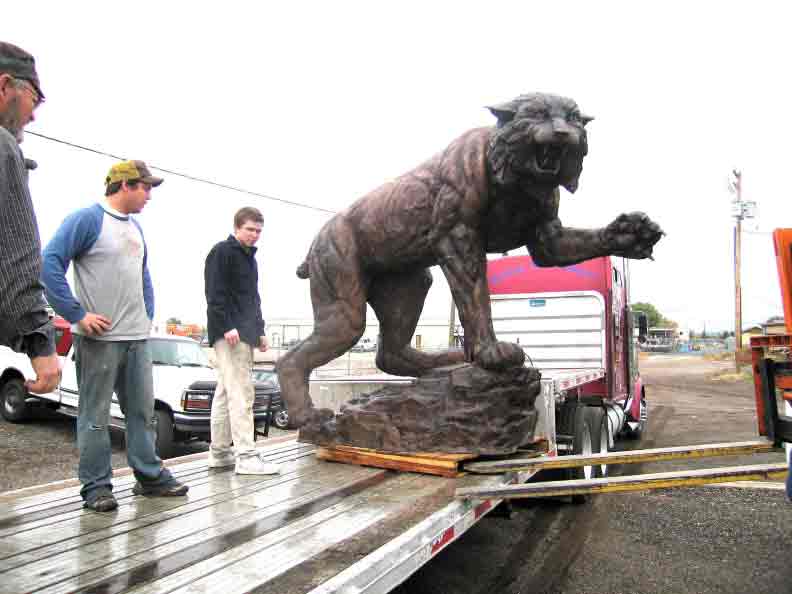 Shipping the Wildcat Bronze Statue
Sculptor Icon Bronze
More about our bronze animal statue and
custom mascot bronze statues gallery
Icon Bronze, LLC sells bronze sculptures of your custom wildlife animal statues. Contact Icon Bronze regarding your custom bronze sculpture quote for your school or sports team mascots. You can contact us by email at
bob@IconBronze.com
or by calling 801-649-5823 or Toll Free 877-404-4266. Here we can sculpt custom bronze plaques for your school, business or team. Plaques can go with your custom commission bronze mascot or have as a stand alone wall plaque.
Buy your bronze sculptures
direct from Icon Bronze, LLC
Buy your bronze sculptures direct from the Icon Bronze where we accept commissions for your custom bronze statues. See our portfolio for more custom Patriotic bronze sculptures, custom Patriotic bronze statues, war memorials and custom bronze monuments. Contact Bob Talbot at Icon Bronze for your consultation about your custom bronze sculpture project 801-649-5823 or Toll Free 877-404-4266, Email welcome at bob @ IconBronze.com or click here to Contact Us.
We can create your custom
animal or mascot statue
We can create and design a custom made bronze animal sculptures and bronze mascot statues for you from your ideas or feel free to use ours. We are happy to help in any way making your dreams become a reality. The sky is literally the limit when it cones to custom bronze animal mascot monuments and statues. We create custom made statues from desktop to colossal bronze monuments. Options are wide open and the possibilities are endless for your animal or mascot statue needs. We can custom create for you portrait statues and bust statues, we make bronze plaques, fountains, memorial statues and more. Remember that with Icon Bronze, LLC your custom bronze sculpture will be sculpted to your exact specifications.
Icon Bronze, LLC creates custom hand
sculpted bronze plaques, signs
Icon Bronze, LLC creates custom hand sculpted bronze plaques, signs and other architectural elements in bronze for your school or sport team mascot. Add class and elegance to your school building on campus, Sports arena building or other public building with custom bronze elements giving it a unique one of a kind atmosphere. Tell the story that you are trying to convey with a bronze statue or monument that will last virtually forever. If you erect a bronze statue then your statement is that of class, dignity, stability and quality for your school or team. If your intention is to convey a sense of permanence and solidity for your institution then perhaps a bronze fountain sculpture for the courtyard or a portrait statue of someone is what you need. Remember that first impressions cannot be repeated so consider doing it right the first time with a bronze statue or monument from Icon Bronze.
The Possibilities are literally endless
With bronze the possibilities are literally endless. we specialize in custom indoor and outdoor bronze sculptures. Anything from bronze fountains to portrait bust statues for niches are a possibility for you. Custom bronze sculptures for school building and sport venue entryways always make a lasting impression on visitors. You may even consider bronze gates or custom bronze doors and hardware for your home or business. Remember that with Icon Bronze, LLC everything is sculpted to your specifications and unique needs. Our custom bronze sculptures are specially made to order for you.
The bronze artists and material at Icon Bronze
The bronze artists Icon Bronze uses are well trained in the time honored lost wax bronze casting process. With an expert eye, each foundry worker pays special attention to the most minute details when it comes to design, texture, form and finish of bronze sculptures. We are strong believers in using US materials, facilities and talent. All of our custom bronze sculptures and monuments are proudly made right here in the United States of America. We use the finest bronze materials and employ the best qualified craftsmen around.
The foundry uses high quality Everdur silicon bronze. The composition of Everdur bronze is 95% copper, 4% silicon and 1% manganese. This type of bronze produces a much higher quality, more durable and longer lasting bronze sculpture than cheap imported bronze which may have as low as only 50% to 55% copper content. Your bronze casting from Icon Bronze will last virtually forever and be there for generations to enjoy because of the high quality of our bronze.
Donít be like one of those other schools or teams that are trying to keep up with the all the others with the same old statues. Step out of the old box and have a custom bronze animal or mascot statue made to your exact specifications. With Icon, your custom bronze statue will have style and suit your needs. Let Icon Bronze help you to create the custom bronze sculpture of your dreams. It all starts with a simple phone call or email and we can get the ball rolling toward your custom bronze statue commission. With Icon you can expect us to meet and exceed your high expectations.