Savior & Lamb Bronze Monument
At Christus Spahn Hospitals
"Feed My Sheep"
Over 9'-6 feet tall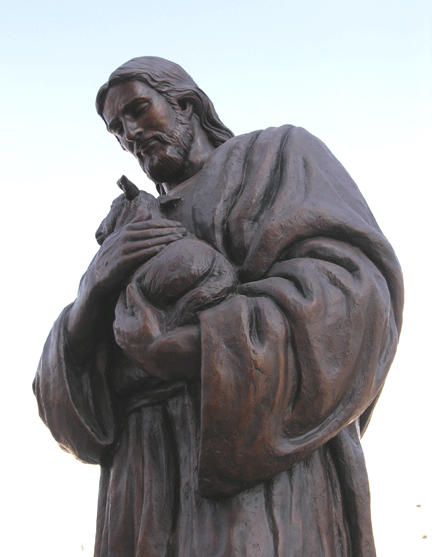 Custom Commissioned bronze monument of the Savior and the Lamb. This statue shows the Healing Savior with a small lamb as none are lost. Several copies of this Savior and Lamb monument are standing at several of the Christus Sphon Hospitals in southern Texas in and around Corpus Christi area. This monument stands about 9 feet tall and is heroic in its size. Sculpted by Icon Bronze.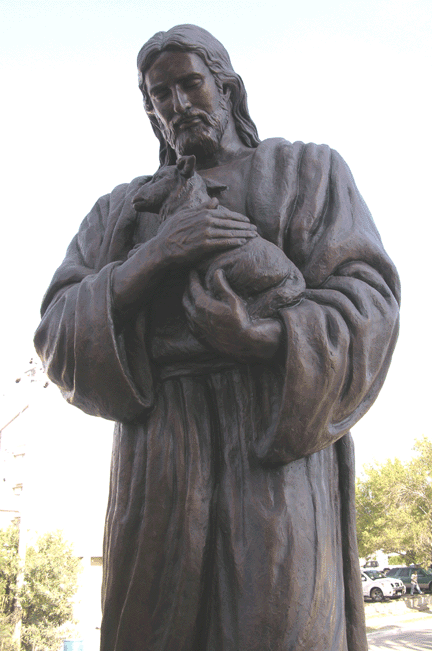 Jesus Christ With A Lamb Bronze Statue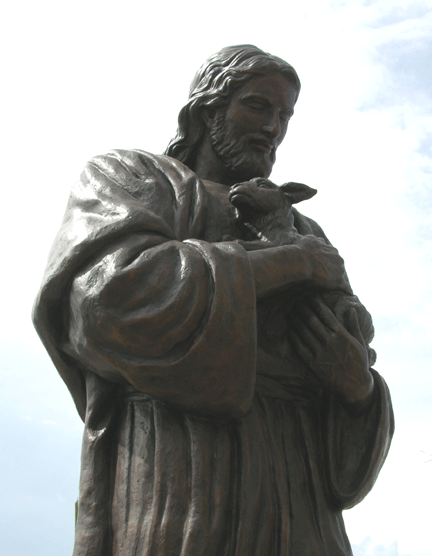 Healing Savior And Lamb Monument Statue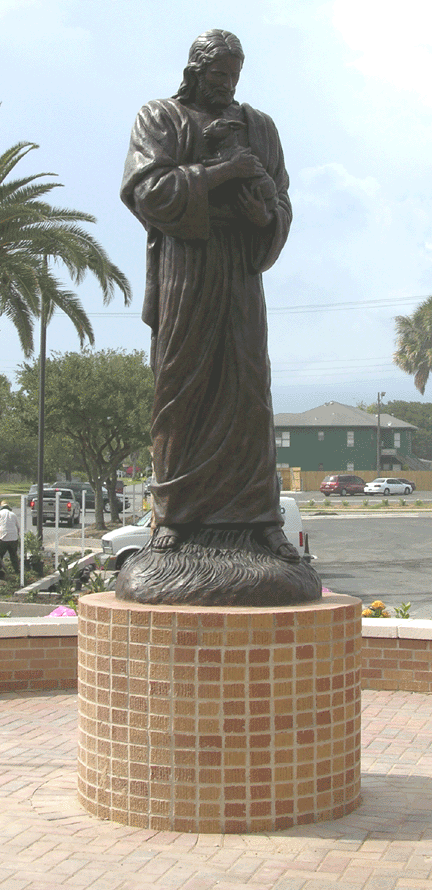 Bronze Jesus and Little Lamb Monument At
Christus Spohn Hospital In Corpus Christi Texas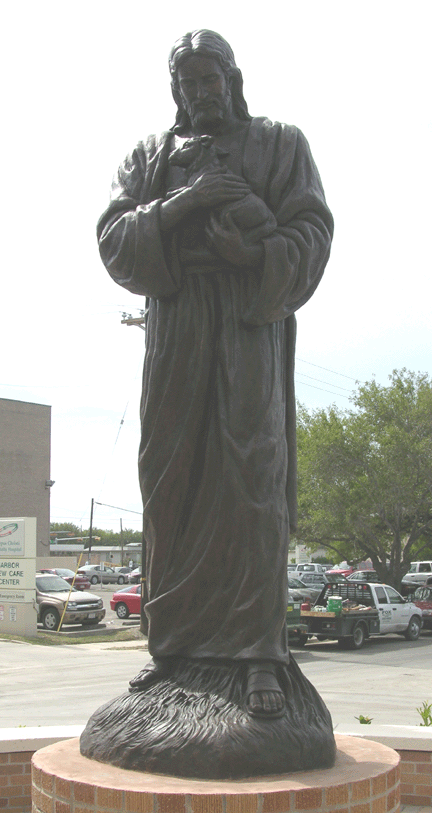 Heroic Statue Of Jesus Christ With A Lamb
"Feed My Sheep"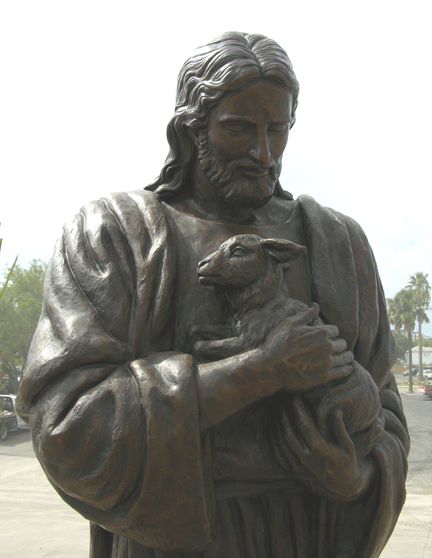 Close Up Of Jesus And Lamb Bronze Statue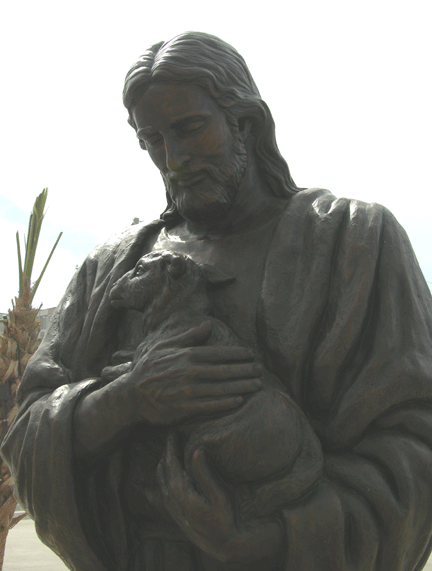 Feed My Sheep Bronze Monument Statue
Jesus Christ Statue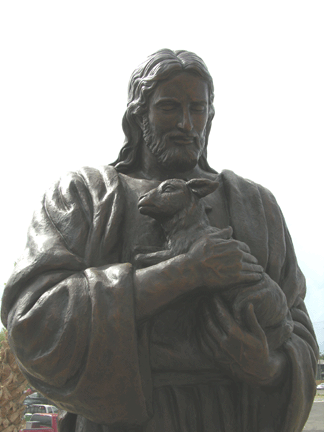 Savior & Lamb Bronze Statue
By Icon Bronze

Custom Bronze sculptures by Icon Bronze Your
Bronze Statue Headquarters for Bronze Casting.
Custom Orders are always welcome please call for a quote on custom bronze sculptures, Statues and Monuments Contact Icon Bronze at 1(801) 649-5823 or Toll Free (877) 404-ICON or send us an Email bob@IconBronze.com and we will promptly provide you with a quote. Icon Bronze will create a custom bronze monuments for your organization that will meet and exceed your expectations.
At Icon Bronze we only create beautiful bronze sculptures from tabletop size to heroic monuments. We are the leader in custom commission bronze statue work. We do it all from the beginning sketches to casting to the installation of your monument statue. When you commission your statue with Icon Bronze we only have the finest craftsmen in the business. Possibilities are endless and could include indoor or outdoor bronze sculptures, bronze fountains, portrait busts of loved ones and company founders. We can create bronze sculptures for offices entryways and common areas. We are well known for custom bronze statuary for many churches and other religious buildings. We can custom create a logo for your company or organization.
convey a sense of permanence
A custom bronze sculpture, portrait, or fountain can convey a sense of permanence and solidity for your company. Bronze sculptures last through the generations, telling the stories of their subjects through the ages. A bronze sculpture honoring your ancestors can continue to tell their story for centuries.

With Icon Bronze you will be working directly with the sculptor and foundry leaving the guess work out of creating your custom bronze statue. We pride ourselves on our commitment to quality of your monument and our customer service. All of our bronze sculptures are custom made to order. All of our bronze statues are sculpted, molded and cast in house at the foundry. Buy your custom bronze statues from Icon Bronze today.
We Have The Highest Quality Bronze Statues
Obviously you are looking for the finest quality fine art bronze and you are at the right place. If you are looking to commission a custom work of Bronze art you have come to the sculptor web site. Like our tag line says, "If you imagine it, we will create it and you will love it" So use your imagination or use ours and together we can create your custom statue that will inspire, remind future generations what great sculpture is all about. So please don't hesitate and give us a try for your beautiful statue ideas today. Get a fast free quote from Icon Bronze today and you could be enjoying your new custom monument in just a few months. Our custom statues are created to suit your specifications and placement requirements. Click here to get your free fast quote.
We Are Here For You!
We are hear daily to assist you in creating the statue of your dreams. Our Custom bronze casting will work will impress the finest of tastes out there. We are here to help you with a portrait in bronze capturing the likeness and personality of the one you seek to honor. To commission your custom bronze bust or portrait sculpture, contact Icon Bronze 801-649-5823 or Toll Free 877-404-ICON (4266) we are standing by ready to assist you with your custom bronze statue today with our free consultation statue design service.