Handcart Pioneer statue
The Handcart Pioneer Monument
Handcart Pioneer at Salt Lake Temple Square

by Torlief S. Knaphus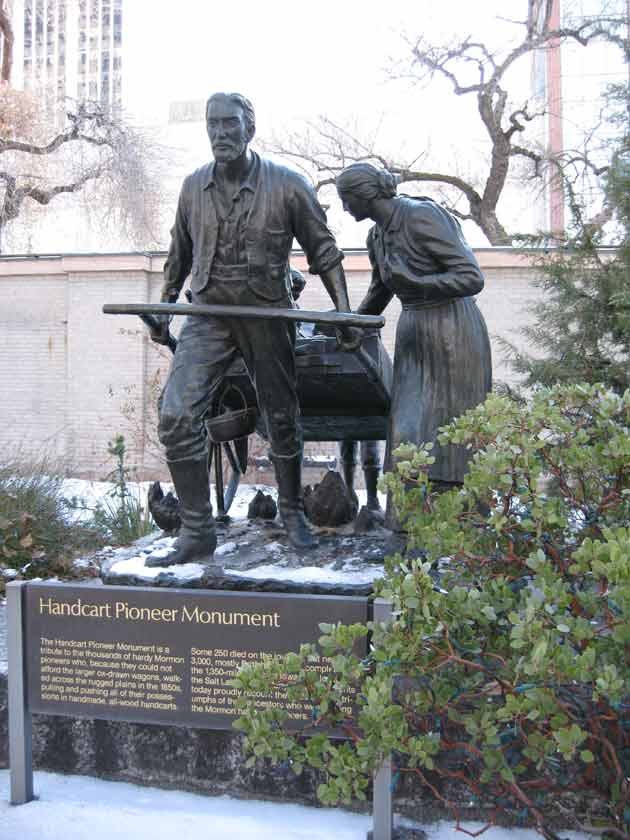 Bronze Handcart Pioneer Statue At Temple Square
In Sallt Lake City Utah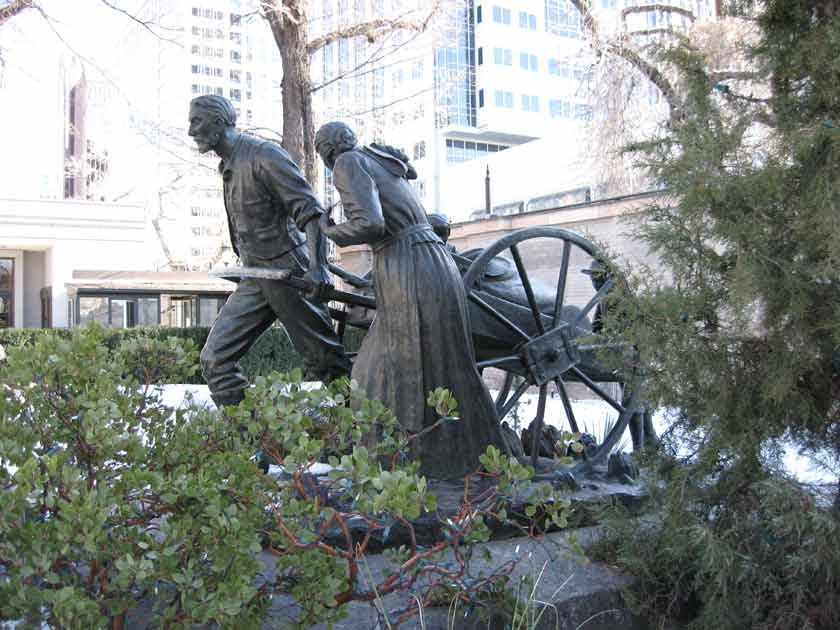 Bronze Monument Handcart Pioneers Statue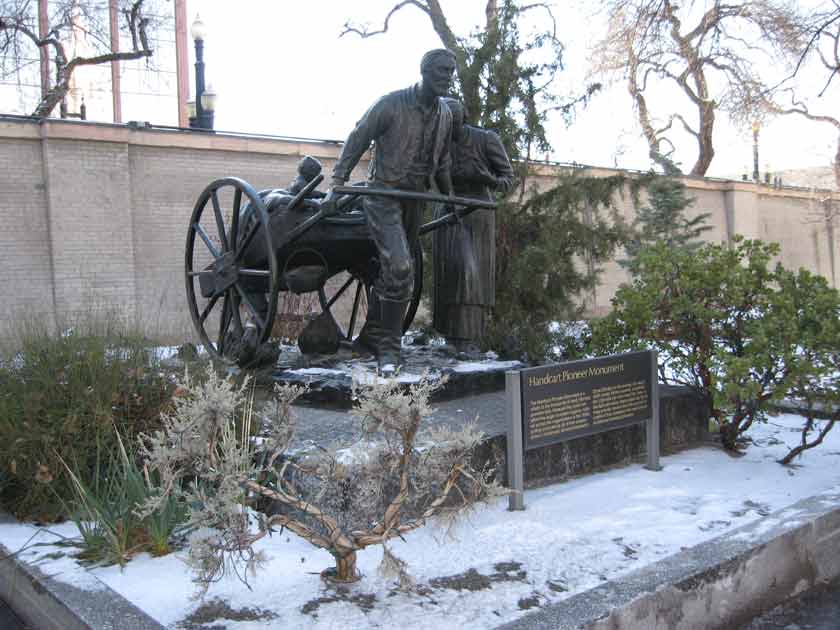 Temple Square Hand Cart Pioneer Monument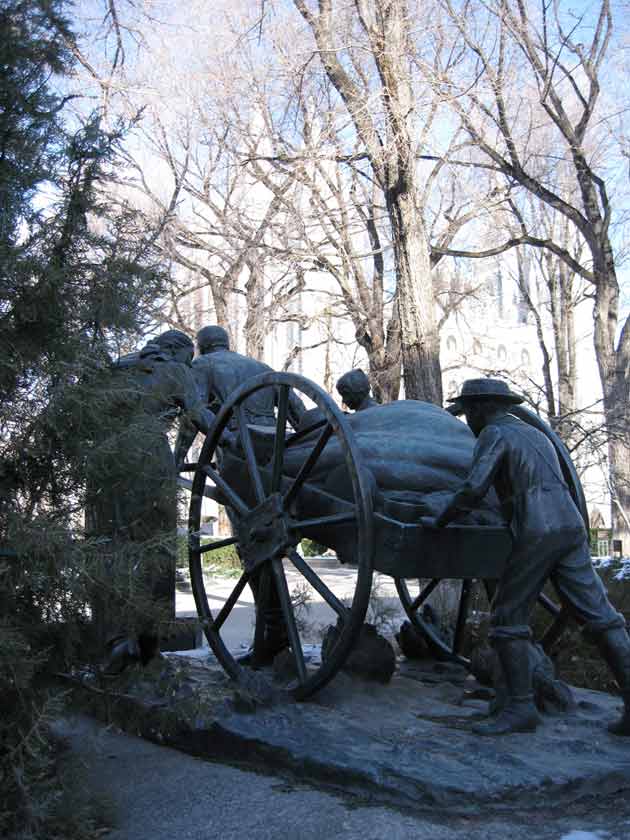 Pioneer Family Pulling A Handcart
Bronze Monument In SLC, Utah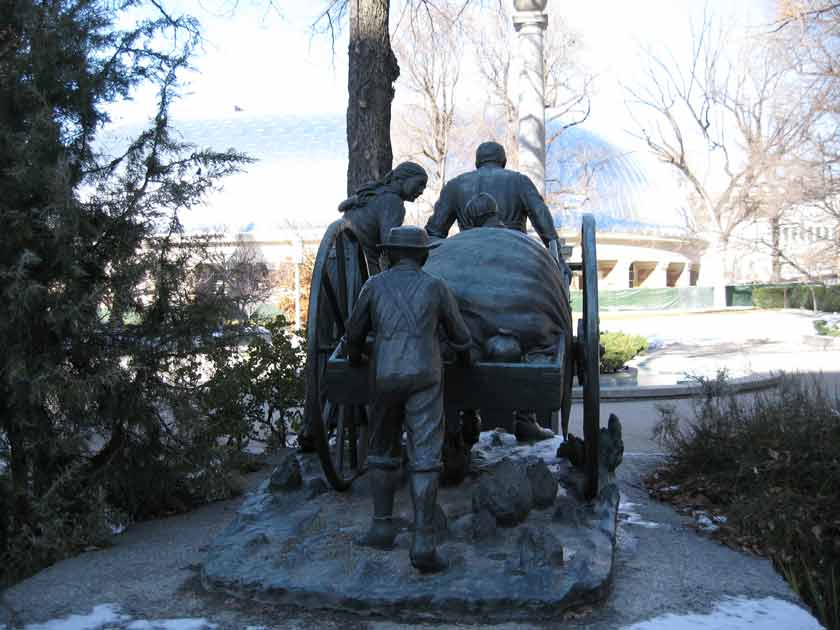 Bronze Monument The Utah Pioneers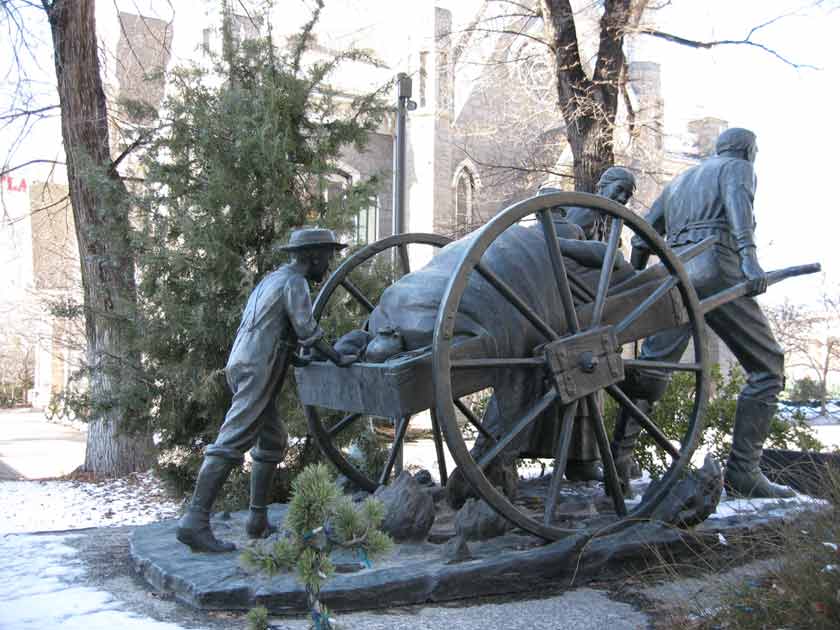 Smaller Scale Statue Available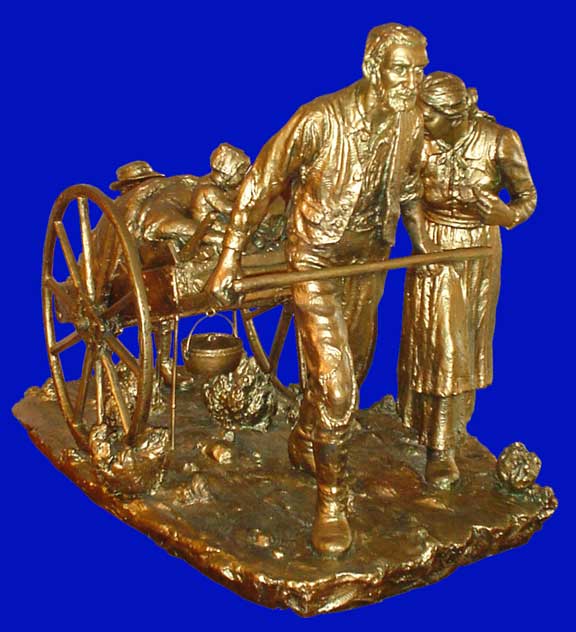 You are invited to be among the select owners of this
masterpiece in its original size and detail
( approximate overall size: base 4'-3 long 2'-6 wide 34" high )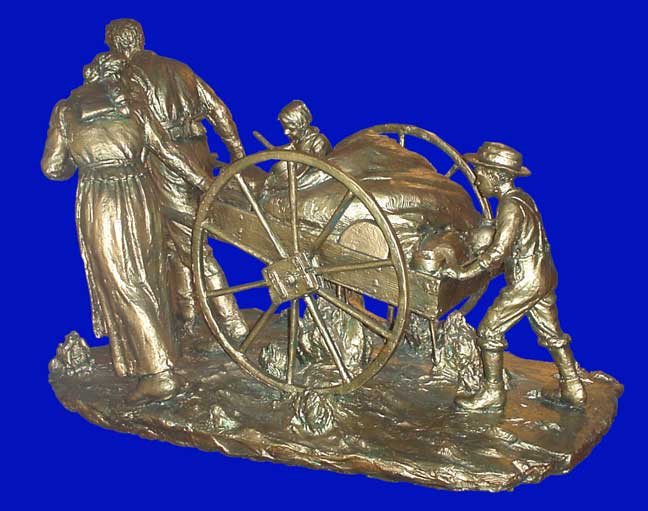 The Limited Edition
Handcart Pioneer
by Torlief S. Knaphus
Historical Background
In the United States of America, from 1856 to 1860, three thousand persons walked from the Missouri River to the Great Salt Lake Valley. They came in companies made up mostly of families pushing or pulling a two-wheeled cart in which were their only possessions. They came from foreign lands such as England, Denmark, Wales, Norway, and were too poor to purchase animals and wagons to make the trip. Because they were imbued with the spirit of gathering and an insatiable urge to emigrate to their "promised valley" in the west they forsook even the meager protection of the covered wagon and undertook the journey by foot. It meant walking thirteen hundred miles, fording rivers, eating the dust of sage flats and climbing and decending unbelievable mountain heights.
Suffering and hardships were experienced on the trail and many of them perished from exposure and deprivation. Those who were able to continue were bowed down with grief and weariness. But the promise of freedom and protection of the far-off Rocky Mountains pushed them foreword with strength and determination. All this combines to present a never-to-be-forgotten saga in American history, an epic which is perpetuated in the enduring medium of bronze in the remarkable statue "The Handcart Pioneer" by Torlief S. Knaphus, Norwegian-born sculptor-artist.
The Artist
Torlief Soviren Knaphus was born December 14, 1881, in Vats, Stavanger, Norway. As a young five year old boy, he carved birds and heads in wood while he herded sheep in the hills. He was encouraged by his parents, his father giving him instruction in decorative design.
At fourteen he apprenticed with a paint and decorating establishment. At sixteen he branched out for himself in this field. However, the urge to go to sea has ever been strong with Norsemen, and adventurous young Torlief, like his Viking ancestors, answered the call of the sea. He served as a sailor on ships of Norwegian merchant lines. However, heeding his mother's wishes and his own feelings, after two years he returned to his apprenticeship in decorative art.
There was also an interval at about this time in which he actively engaged in competitive athletics, regularly taking honors in spear-throw and swimming. But the art impulse was ever there in his mind and fingers. On the night of a banquet honoring some of the athletes including Torlief, he announced his intention to devote himself to art work. Thus, he was literally embarking on his career which has placed his numerous works in their rightful places among contemporary art pieces.
He studied for two years in Oslo under the personal instruction of Harriet Backer of the Harriet Backer Art School. Along with his instruction he studied with Lara Utne, professor and sculptor at the King's Art School in Oslo. Inspired by his tutelage he made the decision to devote his art to the field of sculpture.
At this time a significant influence came into his life which shaped the course of his experience and travel. At Oslo, Mr. Knaphus met the missionaries of the Church of Jesus Christ of Latter-day Saints (Mormon). He was so impressed with their message that in February of 1902 he joined the Church. Subsequently in January, 1906 he sailed for the United States bound for Salt Lake City, Utah, where he established his home and his studio for the rest of his life.
In 1912 he returned to Europe to study at the Julian Academy in Paris where in one year's time he was awarded a first mention for his sculpture work.
On his return to the States, he spent another half-year at the Art Student's League on New York.
Knaphus died at age 83 in Salt Lake City on June 14, 1965. One of the first commissions received by him was the fashioning of the handcart sculpture in 1926. The inspiration for this remarkable piece was attained in a large measure by personal conversations and contacts with many of those who had actually made the immortal trek with a handcart.
To study and enjoy the sculptured works of Torlief Knaphus is to experience the product of a spiritual mind and master of craftsmanship. One feels the genius of an inner soul responding to creative urges as he captures the beauty and drama of momentous historical events.
Others of his sculptured works beautify temples, depict important happenings in America and Mormon history, grace public offices and grounds, and enhance private homes.
Handcart Pioneers by Torlief S Knaphus

Handcart Pioneer
Standing alone among the grand epics of the settlement of the west in the United States is the heroic undertaking of the handcart pioneers in the mid-nineteenth century. Their monumental courage is preserved with remarkable understanding and artistry by sculptor, Torleif S. Knaphus
The Sculpture
The figures and the handcart stand on a base which averages 3" in thickness; is 2'-6 wide and 4'-3 long. The figure of the man is 31" high.
Since 1945 a life-size reproduction (twice the size of the original work of 1926) has been admired by millions from all over the world as they have visited the famous grounds of Temple Square in Salt Lake City, Utah.
Now, for the first time, in bronze replicas of this world famous piece are available on a very limited basis. these are not recasts or casts from unidentifiable plasters. They are from the original plaster model which has been expertly preserved since it was first fashioned in 1926. It is signed and dated by artist Knaphus. In 1926 a single casting of the original piece was made from the same plaster model and is housed in the Smithsonian Institute in Washington, D.C.
Price $27,500.00
Limited Edition of 20
12 have been cast
Castings will be shipped F.O.B. Salt Lake City, Utah
Please call toll free
877-404-4266
801-649-5823