Coast Guard Woman Soldier

Life Size Monument Statue Bronze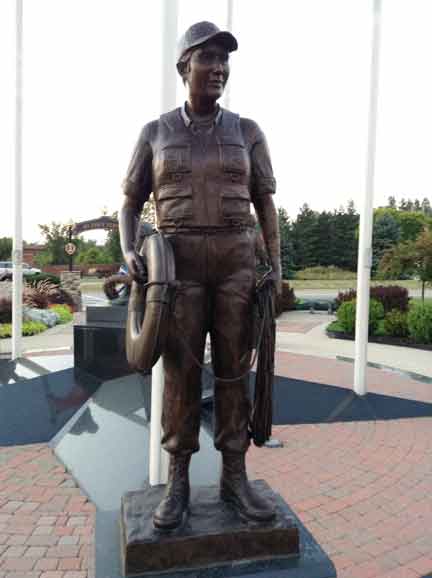 Our Modern Day bronze Coast Guard Soldier statue. This particular statue is of a woman soldier working aboard her Coast Guard ship. There are not many statues honoring the women in the United States Armed Forces and we would like to change that. If you are considering a monument statue to those that serve our country, don't forget about the women that give their lives for our freedom. This statue stands at the Swartz Creek Veterans Memorial in Michigan.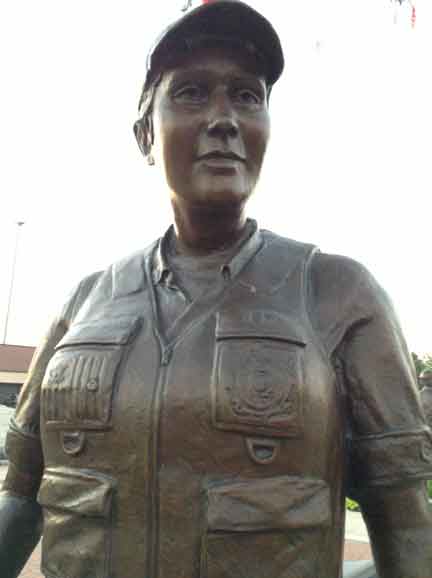 Bronze Monument Statue Of A Coast Guard Soldier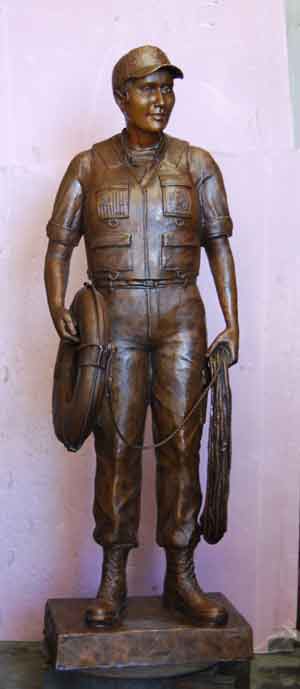 Bronze Monument Coast Guard Woman Statue Holding A Lifesaver And Rope.
Clay Models Below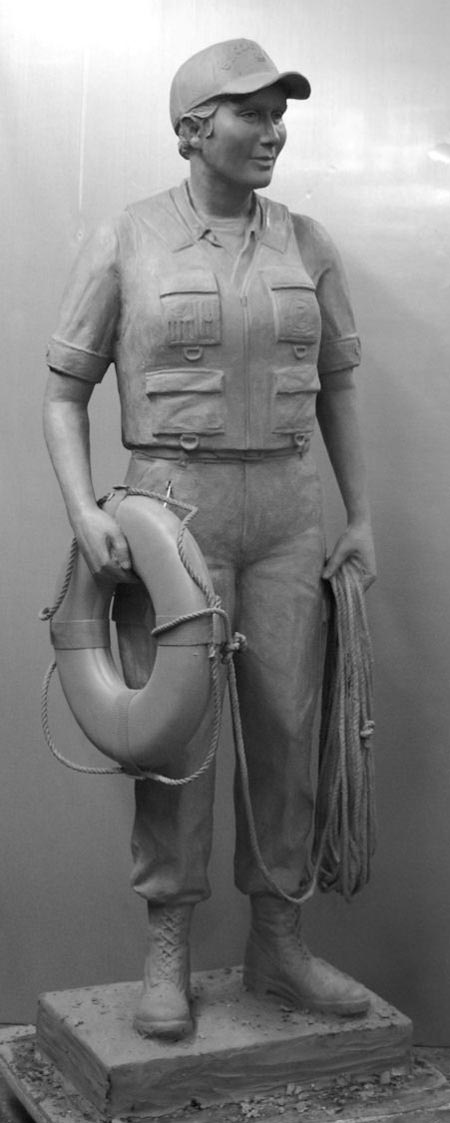 Life Size Clay Model Of A Coast Guard Member

Coast Guard Statue Life Size Clay Model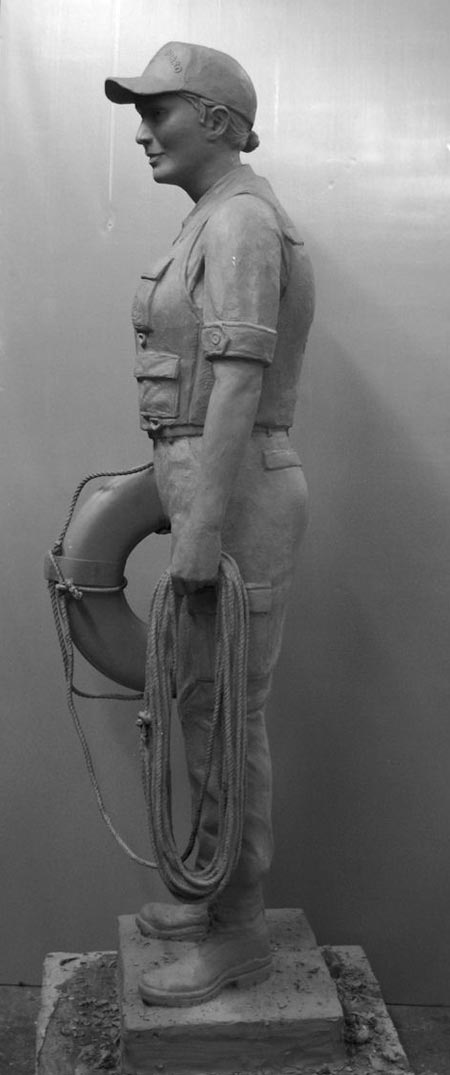 Side View Of The Coast Guard Soldier Statue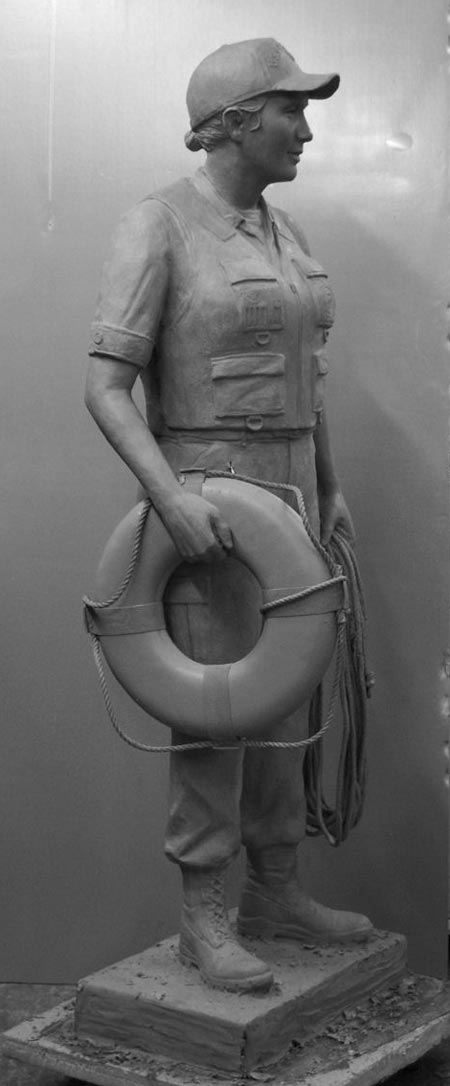 We create Custom Sculpture, Give Us A Call, We Can Help You!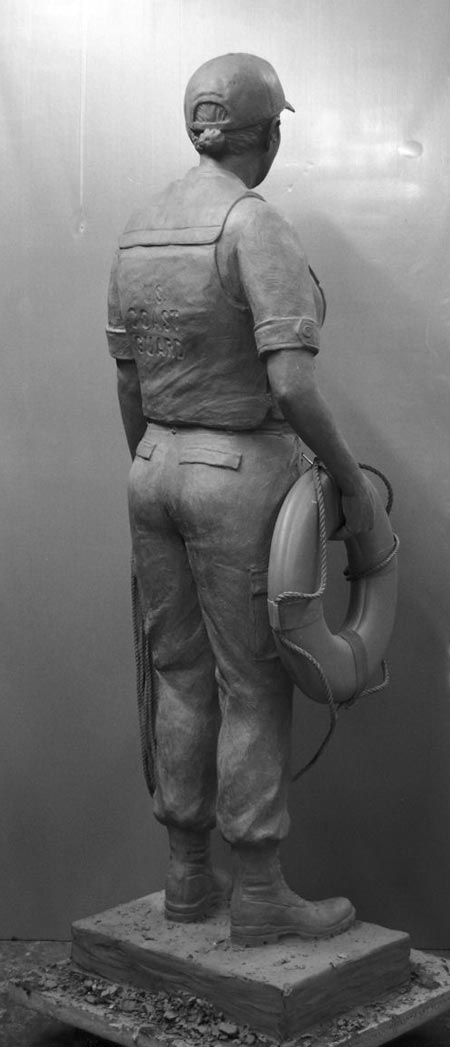 Back View Of Coast Guard Woman Statue
Swartz Creek Military Memorial Statues
By Icon Bronze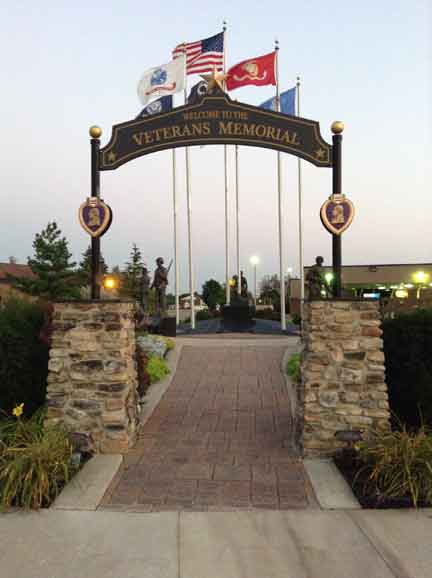 Swartz Creek, MI Veterans Memorial Park.
We Created All Of The Life Size Soldier Statues In This Memorial.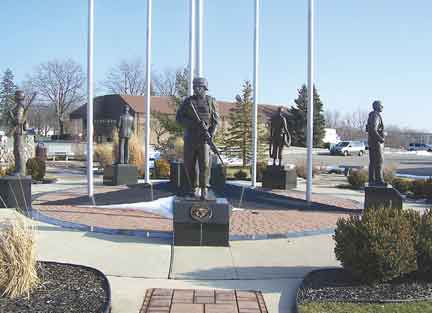 Swartz Creek Soldier Statues By Icon Bronze

Custom Military Bronze Life Size Statues
We would like to thank you in advance for considering Icon Bronze, LLC for your Bronze Military Statue needs. Our Battle Cross Statues are a cut above the norm when it comes to the finest quality and meticulous attention to the most minute details. We never sacrifice the quality and outcome of your Fallen Soldier Statue for any reason. Those that have served and given us their ultimate sacrifice with their lives deserve nothing but the best. We are honored to help in creating Armed Forces bronze statues that pay tribute to the men and women in the armed services of America. We are pleased to be part of the Memorial honoring the WWII African-American Marines that were given little to defend themselves but gave so much in the fight for freedom. Our Marine statue shown above shows the determination of these brave US Soldiers during WWII. When you combine our Bronze Battle Cross statues with our Military Soldier statues you have the complete Memorial package.
Please take a moment and click the Contact Us so that we can provide you with a on your Bronze Monument Statue needs. If you are looking for more than one Military statue from different branches, we have special discounts for multiple bronze monument orders. We also have a flat fee delivery and installation of your bronze statue monument. Call us today for a fast free quote on your custom bronze military memorial needs. Call 801-649-5823 or 877-404-4266 We will be happy to take your calls 24/7 day and night.
Looking For The Best Quality? You Found It!
Obviously you are looking for the finest quality fine art bronze and you are at the right place. If you are looking to commission a custom work of Bronze art you have come to the sculptor web site. Like our tag line says, "If you imagine it, we will create it and you will love it" So use your imagination or use ours and together we can create your custom statue that will inspire, remind future generations what great sculpture is all about. So please don't hesitate and give us a try for your beautiful statue ideas today. Get a fast free quote from Icon Bronze today and you could be enjoying your new custom monument in just a few months. Our custom statues are created to suit your specifications and placement requirements. Click here to get your free fast quote.
Contact Icon Bronze to commission a custom bronze statue and turn your idea into a real bronze statue. At Icon your statues are created and cast from the finest American materials available. All of our work and bronze casting is done right here in America. Our fine art bronze foundry will stop at nothing to see your sculpture project through to perfection.
Only The Best With Icon Bronze, LLC
All bronze castings at Icon are cast of Everdur silicon bronze. The composition of Everdur bronze is 95% copper and 4% silicon and 1% manganese. This type of bronze produces a much higher quality, more durable and longer lasting statue or monument than cheap imported bronze. Imported bronze will have a little as 50% to 55% copper content. Because of the high quality bronze used in the creation of statues and monuments at Icon, you can rest assured that they will last for many generations. Our custom sculpted statues stand out above the rest because it is hand sculpted, molded and cast.
For your free consultation or more information regarding the bronze statues that you are considering please call Bob or email at bob@IconBronze.com 1(801)649.5823 or toll free 877-404-4266 Today!